Moving into a new home is always exciting but can also be a bit stressful. Once you finally get everything moved in and boxes unpacked, all you want is your new home to be set up so you can relax and enjoy it. Helping clients move in and get settled into a new home is one of my favorite services.
One-third of the average American family moves once a year and these clients are not far off that statistic. I have had the pleasure of helping them
redesign
three homes in past several years.
To see how different their furnishings and accessories worked in each home, check out the
Related
Articles
below.
Traveling throughout Africa, my clients had collected some interesting African treasures. The tile in this room called for a more warm, earthly environment and their African pieces were just the perfect fit. With all the tile, a rug was needed to help ground the room. We found this perfect rug at
Home Goods
along with the large canvas artwork which brought this
African-inspired living room
together beautifully.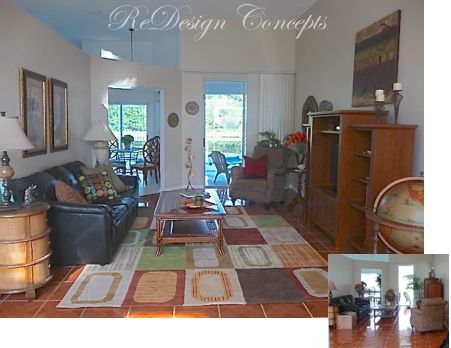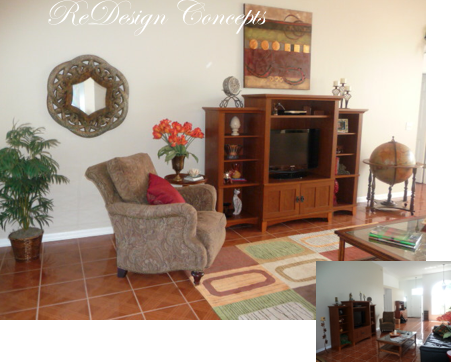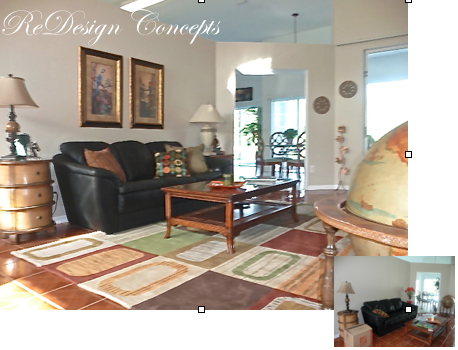 The African-inspired theme begins in the entryway and on into the living and dining areas.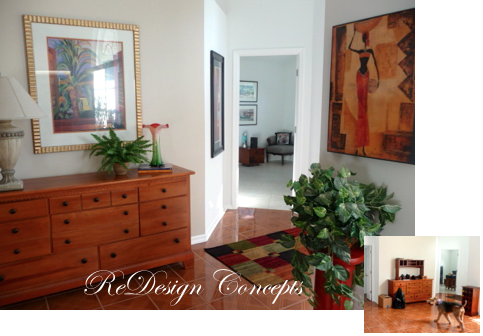 Off the kitchen is the sitting room i.e. family room. Because of the lighter tile, windows and sliding doors that overlook the pool/spa area, this room took on a more fun, beachy feel. "The Mrs." thought maybe the room would be hers and hers alone as you can see in the before picture below. Sorry to be the bearer of bad news, Miss Leah, but this room is just too relaxing and beautiful not to share.:) So in came the love seat for extra seating. Now it's the perfect place to hang out and relax with a glass of wine or cup of coffee...
The only new purchases in this room were the very cool blue rug and two lamps that were perfect for some ambient lighting.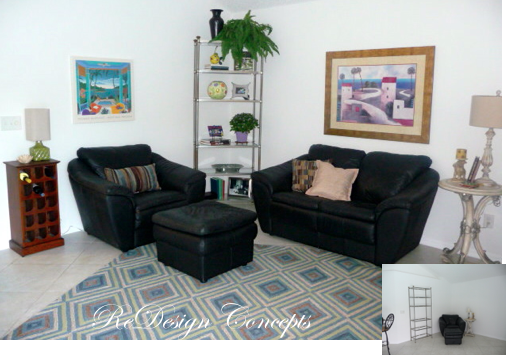 In keeping with the light and airy feel, the kitchen is just off the sitting room with just a few strategically placed accessories.
The "Man Cave"...a desk, big screen TV and few favorite pieces...what more could a man want?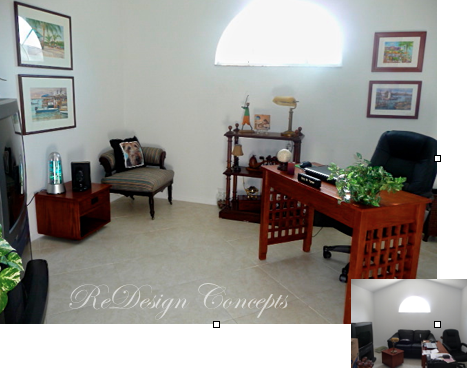 Only one week after moving into their recent home, my clients' house was transformed into a warm and inviting home..."three time's a charm". Welcome home!
Related Articles: